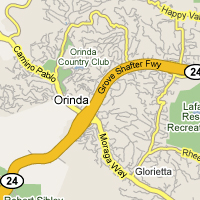 Bookkeeping Services in Orinda
Phyllis Cohen has been providing accounting support and bookkeeping services to Orinda-based small businesses for over 20 years. Services include QuickBooks management, payroll processing, financial statements, account reconciliation and tax preparation. If you're looking for accounting services in Orinda without having to hire a full-time employee, Phyllis Cohen is the perfect solution.
Phyllis Cohen services the Orinda area and surrounding communities. Contact her to discuss your accounting and/or bookkeeping requirements and you'll quickly see why her clients love her!
General Information About Orinda
Nestled among the beautiful rolling hills of California's Contra Costa County, Orinda is a hub for upscale suburbanites, as well as those who love hiking and the glories of a wide-open countryside. The city is an easy commute via Highway 24 to Oakland, and from there, across the sparkling waters of the San Francisco Bay into the great city of San Francisco. Home to Briones Park, which offers over 6,000 magnificent acres of expansive beauty to explore, as well as the California Shakespeare Theater, a unique outdoor amphitheatre with superior ratings, Orinda is
one of the feathers in Central California's cap.
Prominent Businesses in Orinda
In this lovely, smallish city, you will find an excellent selection of businesses, both practical and luxurious. Orinda, also known as the "Gem of the East Bay," is a community that is steadily flourishing. Companies such as Morrison's Manufacturing Retail Jewelers (925-253-9227) bring sophisticated flair and business savvy to the city's collection of fine businesses. A popular retail venue called the Orinda Village Horse Shop (925-254-1421) offers a good example of the unique requirements the locals make on their purveyors; you can get that special saddle, have it custom fitted or even repaired at this specialty Orinda business.
Accountants and CPAs in Orinda
As an affluent community, Orinda also enjoys its fair share of accountants and CPAs. Susan F. Hurrell is a well-known CPA, whose tax and bookkeeping address is located at 51 Moraga Way, #7 (925-254-7612); the Stevens Group is at 120 Village Square #112 (925-254-7674); you can find CPA Robert J. Kantor at 3 Altarinda Drive (925-254-1301); Katherine Rauch is at 3 Altarinda Drive as well (925-254-3655); and S. Justin Kim Accountancy is situated at 1 Camino Sobrante (925-254-1110). You will find many of Orinda's accountants and CPAs located near the main thoroughfares of town, Camino Pablo and Altarinda Road.