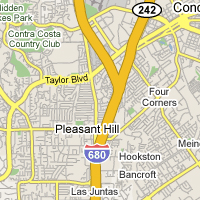 Bookkeeping Services in Pleasant Hill
Phyllis Cohen has been providing accounting support and bookkeeping services to Pleasant Hill-based small businesses for over 20 years. Services include QuickBooks management, payroll processing, financial statements, account reconciliation and tax preparation. If you're looking for accounting services in Pleasant Hill without having to hire a full-time employee, Phyllis Cohen is the perfect solution.
Phyllis Cohen services the Pleasant Hill area and surrounding communities. Contact her to discuss your accounting and/or bookkeeping requirements and you'll quickly see why her clients love her!
General Information About Pleasant Hill
Pleasant Hill, California is an appealing community midway between Concord and Walnut Creek. An idyllic place to raise a family, or welcome them home for the holidays, Pleasant Hill is in the county of Contra Costa, part of the large East Bay region of Greater San Francisco. One of the more pleasant venues to visit while in Pleasant Hill is the charming Main Street neighborhood in the downtown area. Built up around a commercial shopping center which was created in the iconic Main Street, USA architectural style, the heart of the city hosts Pleasant Hill's City Hall, which has garnered several architectural awards.
Prominent Businesses in Pleasant Hill
A list of the important businesses in Pleasant Hill, California is heavy on the educators of the community. Top employers in the city's area, from the 2009 Pleasant Hill financial report, include Diablo Valley College, with over a thousand employees; the Mount Diablo Unified School District, with 537; JFK University, hiring 517 employees; and the Contra Costa County Office of Education, with 180. Several businesses that focus on assisting local entrepreneurs offer their services, among them the Contra Costa Small Business Development Center at 300 Ellinwood Way (925-602-6840). Shadowbend Studios, at 25A Crescent Drive, Suite 225 (925-768-1861), is an example of a local business with a grand reputation.
Accountants and CPAs in Pleasant Hill
A cursory search for fine accountants and CPAs in the city of Pleasant Hill will yield a surprisingly healthy return. Four who achieved five-star ratings online include John Mao, a savvy tax and retirement consultant located at 2300 Contra Costa Boulevard, Suite 150 (925-354-5488); Forney Accountancy, under the guidance of small business expert Bryce Forney, at 1973 Faye Court (925-323-2892); Coates Accountancy, also at 2300 Contra Costa Boulevard, in Suite 220 (925-685-2911); and A&L CPA Group, accountingand IRA experts at 3478 Buskirk Avenue, Suite 1000 (925-405-5092). Maze & Associates, also at 3476 Buskirk Avenue (925—930-0902), specializes in Municipal and Nonprofit audits and other tax and securities entities.